I got my shot!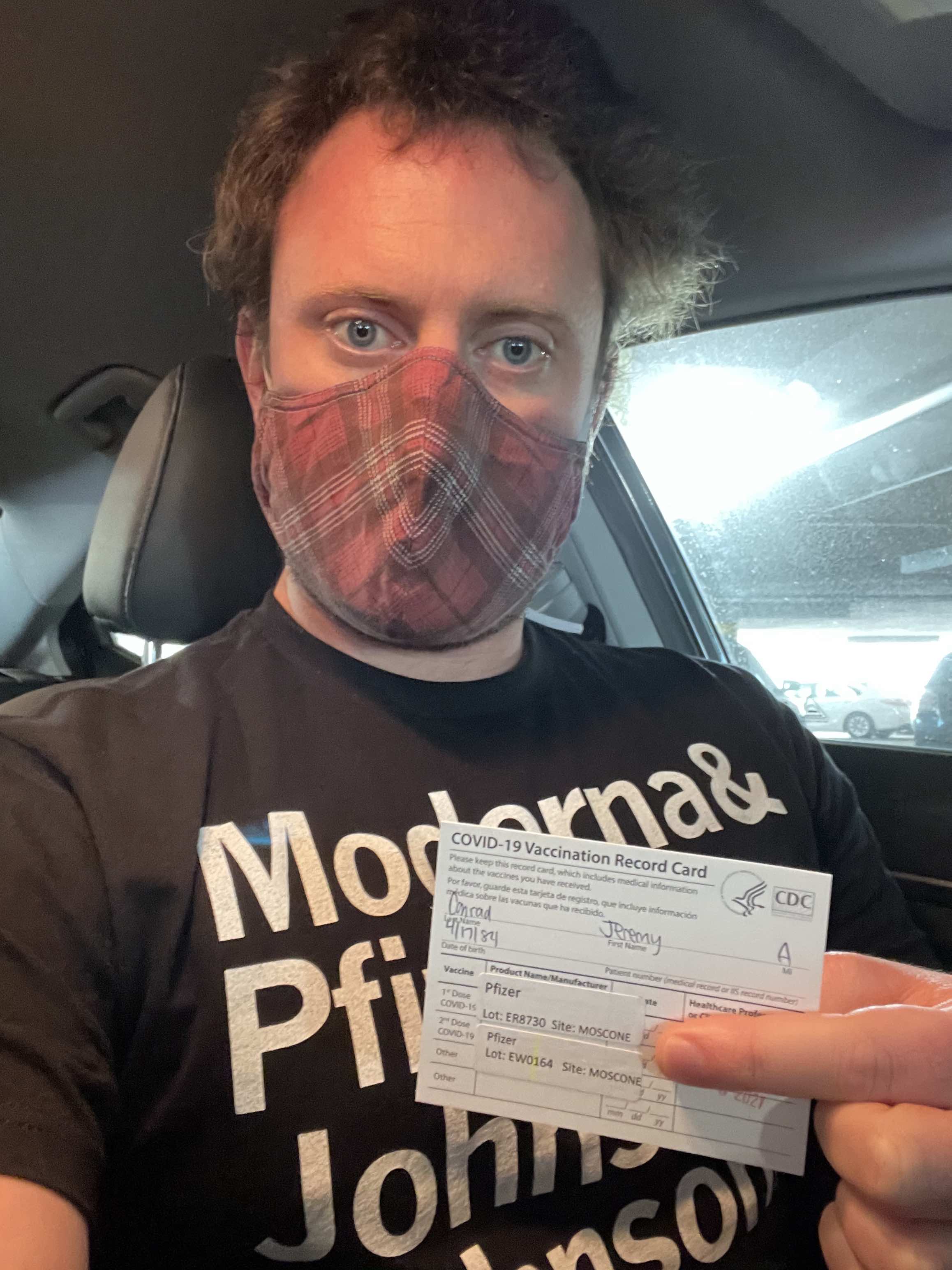 I have the deepest thanks to the scientists and medical professionals who got us here. SF has turned its' major conference center, Moscone, into a mass vaccination site. It was surreal to walk through a place that usually has thousands and thousands to sit quietly with a hundred or so other people who had just gotten inoculated. The vibe was electric. Everyone was happy, and the soundtrack blasting is good enough to get its own article in the SF Chronicle.
The picture below is the wall they set up where people put their wait time stickers. In the end, over 300,000 shots will have been given at Moscone.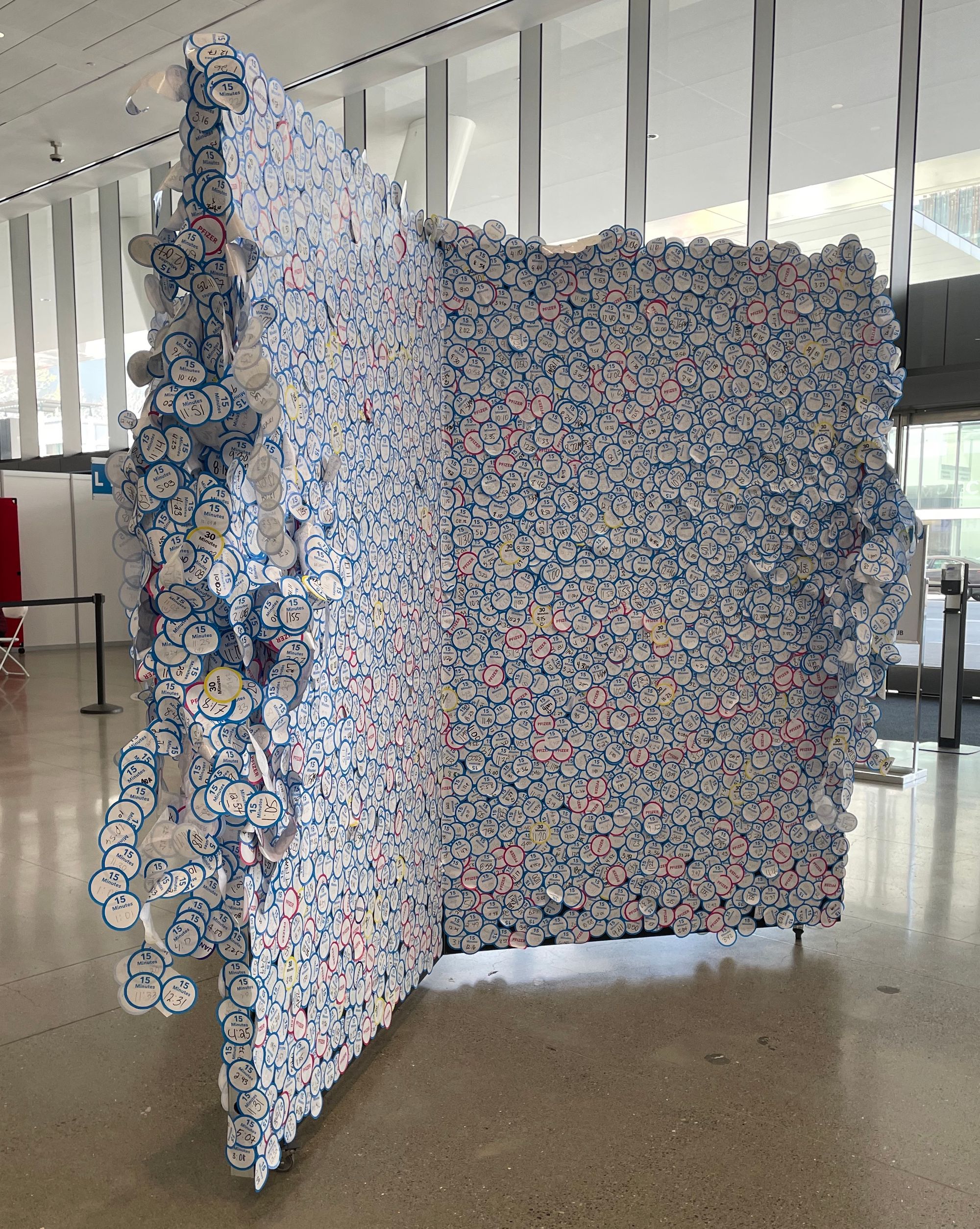 I've gotten some questions about the side effects of the vaccine. Looking at the initial ~15 million vaccinated people, the CDC reports that women are much more likely to report side effects than men. For many vaccines, women will have more side effects than men, so this isn't surprising. Why women are more affected is unknown.
There have been some anecdotal reports of women who had a shot having menstrual cycle side effects. I couldn't find any formal studies on the topic, but some experts have weighed in on possible reasons this might occur. However, they all said that this shouldn't be a concerning or a long-term issue.
This week the CDC formally changed its guidance on outdoor mask use. People who have been fully vaccinated don't need to wear masks unless they are in a crowd. Some states/counties have strangely decided to keep their mask mandates. The CDC is right here; if you're vaxxed, you don't need to wear a mask while outside.
However, if it makes you feel better, then keep wearing one. I've seen some people making judgments on outdoor mask wearers, which I think is dumb. It's been a long year; it'll take a bit for people to adjust back to normal.
The crisis in India continues unabated. Their daily case count is the highest of any large country, and even then, it's likely very severely underreported. Some states there have gone into lockdown, but the national government has resisted a country-wide lockdown.
More work came out this week on the new variant there, 1617. It appears to have some drop-off in terms of vaccine efficacy but not as much as 315. Overall I continue to believe that the vaccines are effective against this variant. The US announced a large aid package to help India fight the virus.
The UK and Israel are in front of us regarding the total percentage of the population who has received the first dose. Given what we're seeing there as we get 10-15% more of the population inoculated, we expect a dramatic drop off in infection rates. At our current pace, that should be in 4-6 weeks.
Right now in the US, we've reached a point that one virologist calls "a tale of two epidemics." On one side, April saw the lowest number of Covid deaths since last March. In some states, vaccine uptake continues to be healthy, and in SF, over 72% of adults have received their first shot.
In other areas, 117 continues to rage. This variant is more infectious and likely more harmful. Although most of the country is decreasing in case count, 4 of the top 20 metro areas are still above 1 for their R. I remain optimistic that we're on track to get everything in control over the next few weeks.
New data came out this week that showed J&J pause did not increase vaccine hesitancy. I've encountered more people recently who were waiting for J&J to come back online as it was their preferred shot. We've now passed the daily inoculation peak. We will shift from large mass vaccination sites to flooding the vaccine to communities with lower uptakes.
AZ is having trouble putting together the package they need to apply for a EUA in the US. In this case, it's an issue that arose because their vaccine is already in use elsewhere. The FDA requires them to provide data from their real-world dosing, which the others didn't have to because the FDA was the first place they were authorized. Again, this won't affect us, but once the FDA does authorize it, other countries will take their pointers from the FDA. For instance, India has said that it will automatically authorize any vaccine approved by a stringent regulator.
We continue to make incredible progress in vaccine production. Moderna upped its' estimates to 800 million doses for this year, up from 700 million previously. They also announced that they're on track to do 3 billion doses or enough for ~20% of the global population next year. Not bad for a little startup from Massachusetts shipping its first product.
This week we hit 20 million global daily doses for the first time. Our continued rollout worldwide is looking better, with more and more factories coming online.
We're so close, the pandemic is almost over.
You can get these updates via email by subscribing here https://jeremyconrad.com/#subscribe